Beaver Women's Hockey Gameday – Game 21 – January 5, 2019 – vs Union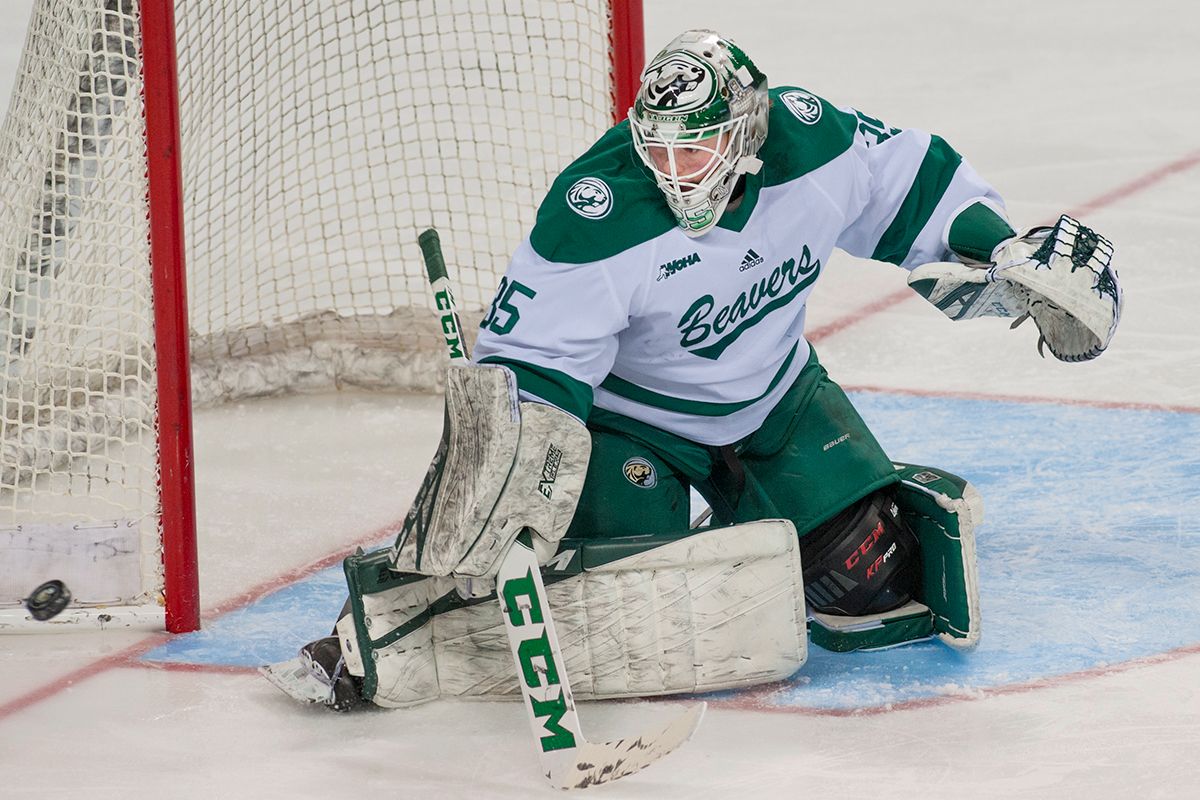 Redshirt sophomore Lauren Bench posted a 22-save shutout as the Bemidji State University women's hockey team blanked Union College 3-0 Friday night in game one of its series. The Beavers (6-13-1, 4-7-1-0 WCHA) got the game-winning goal from junior Jacqueline Kaasa in the second period while senior Emily Bergland extended BSU's lead to 2-0 with a short-handed goal in the third. Junior Kiki Radke scored on the empty net to seal the 3-0 victory.
Bemidji State is now unbeaten in six consecutive games played at the Sanford Center dating back to Oct. 27 against Minnesota State University and is 5-0-1 during that span. Bench earned her fourth shutout of the season and sixth of her career to tie for third most among Bemidji State goaltenders.
Bemidji State came up empty on its lone power play chance in the first period but killed off all three power plays by the Dutchwomen to continue its penalty kill streak at 25 consecutive kills without allowing a power-play goal.
Bemidji State outshot Union 28-22 in the game with Murray making 25 saves and two goals against while Bench stopped all 22 shots by the Dutchwomen to improve to 3-7-1 on the season and is 3-1-0 in her last four starts.
The Beavers will make an attempt for their third sweep of the season when they host the Dutchwomen again Saturday at 3:07 p.m. Our pregame coverage begins at 2:30 p.m. on 1300 AM & 94.3 FM The Legends.
Pregame Open Pregame Open
Jim Scanlan Pregame Coach Pregame
Lydia Passolt Pregame Player Pregame
Bemidji State Lines
Abby Halluska – Emily Bergland – Paige Beebe
Jacqueline Kaasa – Kiki Radke – Lindsey Featherstone
Haley Mack – Clair DeGeorge – Lydia Passolt
Claudia Verkerke – Sylvia Marolt – Ellie Moser
Extra Skater – Abby Ecker
Briana Jorde – Mak Langei
Melissa Hunt – Tina Kampa
Kara Werth – Heather Olson
Kerigan Dowhy
Lauren Bench
Lexi Baker
Opponent Lines
Makayla Mori – Rachel de Perio – Katelynn Russ
Maia Martinez – Cassidy Michalicka – Grace Heiting
Helen Markovic – Katie Sonntag – Haley Shugart
Angelica Melone – Jordi Naidrich – Alli First
Arianna Kosakowski – Megan Ryan
Ava Reynolds – Hannah Schultz
Cheyenne Harris –
Coco Francis
Kate Spooner
Amelia Murray
Beaver Radio Network Ottertail Power Three Stars
Boxscore provided by http://collegehockeystats.net
College Hockey Box Score (Final)
Union at Bemidji State
Saturday, January 5, 2019

| | | | | |
| --- | --- | --- | --- | --- |
| Referees: | Duncan Ryhorchuk | | Game Start: | 3:07 |
| | Casey Enge | | Game End: | 4:55 |
| Linesmen: | Ron Laituri | | Game Length: | 1:48 |
| | Sam Jerome | | Attendance: | 341 |
| | | | | |
| --- | --- | --- | --- | --- |
| Scoring | 1st | 2nd | 3rd | Final |
| Union | 1 | 1 | 0 | 2 |
| Bemidji State | 4 | 0 | 2 | 6 |

| | | | | |
| --- | --- | --- | --- | --- |
| Shots on Goal | 1st | 2nd | 3rd | SOG |
| Union | 7 | 7 | 6 | 20 |
| Bemidji State | 13 | 13 | 11 | 37 |

| | | | | |
| --- | --- | --- | --- | --- |
| | PP | PP % | PIM | SHGF |
| Union | 0/1 | .000 | 2/4 | 1 |
| Bemidji State | 0/2 | .000 | 1/2 | 0 |
| | | | | | | | | | |
| --- | --- | --- | --- | --- | --- | --- | --- | --- | --- |
| # | Prd | Time | Team | Score | Type | Scored By | Assists | Offense On Ice | Defense On Ice |
| | 1st | 7:01 | UNI | 1-0 | EV | Makayla Mori (1) | Katelynn Russ/2 | 12,23,5,7,11,G33 | 20,21,16,9,4,G33 |
| | 1st | 10:38 | BMJ | 1-1 | EV | Ellie Moser (2) | Mak Langei/3, Sylvia Marolt/2 | 16,2,13,6,14,G33 | 20,22,12,7,2,G33 |
| | 1st | 11:43 | BMJ | 2-1 | EV | Clair DeGeorge (5) | Melissa Hunt/2 | 26,5,11,21,9,G33 | 27,21,11,5,4,G33 |
| | 1st | 13:57 | BMJ | 3-1 | EV GW | Jacqueline Kaasa (4) | Kiki Radke/2, Heather Olson/2 | 12,8,20,4,10,G33 | 23,22,7,5,12,G33 |
| | 1st | 18:01 | BMJ | 4-1 | EV | Abby Halluska (3) | – | 21,18,9,11,5,G33 | 27,4,22,2,21,G33 |
| | 2nd | 15:54 | UNI | 2-4 | SH | Rachel de Perio (3) | Grace Heiting/4 | 7,4,13,11,G31 | 26,18,19,11,9,G33 |
| | 3rd | 16:36 | BMJ | 5-2 | EV | Paige Beebe (5) | – | 18,21,14,9,2,G33 | 7,5,2,27,23,G31 |
| | 3rd | 18:26 | BMJ | 6-2 | EV EN | Clair DeGeorge (6) | Lydia Passolt/4, Haley Mack/2 | 26,3,19,5,11,G33 | 23,5,7,13,17,12 |
##
Union
G
A
P
PIM
SOG
+/-
2
Megan Ryan
0
0
0
0/0
1
-3
4
Grace Heiting
0
1
1
0/0
0
-1
5
Ava Reynolds
0
0
0
0/0
2
-3
7
Rachel de Perio
1
0
1
0/0
2
-2
9
Angelica Melone
0
0
0
0/0
0
E
11
Cheyenne Harris
0
0
0
1/2
1
+1
12
Makayla Mori
1
0
1
0/0
1
-2
13
Arianna Kosakowski
0
0
0
0/0
2
E
15
Helen Markovic
0
0
0
0/0
2
E
16
Katie Sonntag
0
0
0
0/0
2
E
17
Haley Shugart
0
0
0
1/2
0
-1
20
Alli First
0
0
0
0/0
0
-1
21
Cassidy Michalicka
0
0
0
0/0
2
-2
22
Hannah Schultz
0
0
0
0/0
2
-3
23
Katelynn Russ
0
1
1
0/0
3
-2
26
Jordi Naidrich
0
0
0
0/0
0
E
27
Maia Martinez
0
0
0
0/0
0
-3
29
G Kate Spooner
Did Not Play
31
G Coco Francis
0
0
0
0/0
0
E
33
G Amelia Murray
0
0
0
0/0
0
-3
Union Totals
2
2
4
2/4
20
-4

##
Bemidji State
G
A
P
PIM
SOG
+/-
2
Mak Langei
0
1
1
0/0
2
+2
3
Lydia Passolt
0
1
1
0/0
1
+1
4
Kara Werth
0
0
0
0/0
2
E
5
Melissa Hunt
0
1
1
0/0
1
+3
6
Claudia Verkerke
0
0
0
0/0
1
+1
7
Abby Ecker
0
0
0
0/0
1
E
8
Kiki Radke
0
1
1
0/0
4
+1
9
Emily Bergland
0
0
0
0/0
0
+1
10
Lindsey Featherstone
0
0
0
0/0
3
+1
11
Tina Kampa
0
0
0
0/0
1
+2
12
Jacqueline Kaasa
1
0
1
0/0
5
+1
13
Sylvia Marolt
0
1
1
0/0
0
+1
14
Briana Jorde
0
0
0
0/0
0
+2
16
Ellie Moser
1
0
1
1/2
3
E
18
Paige Beebe
1
0
1
0/0
2
+1
19
Haley Mack
0
1
1
0/0
5
E
20
Heather Olson
0
1
1
0/0
1
E
21
Abby Halluska
1
0
1
0/0
2
+2
26
Clair DeGeorge
2
0
2
0/0
3
+1
30
G Lexi Baker
Did Not Play
33
G Kerigan Dowhy
0
0
0
0/0
0
+4
35
G Lauren Bench
Did Not Play
Bemidji State Totals
6
7
13
1/2
37
+4

##
Goaltending
MIN
GA
1
2
3
Saves
33
Amelia Murray (L, 1-6-2)
18:01
4
8
0
0
8
31
Coco Francis
41:12
1
1
13
9
23
Empty Net
0:47
1

##
Goaltending
MIN
GA
1
2
3
Saves
33
Kerigan Dowhy (W, 4-7-0)
59:36
2
6
6
6
18
Empty Net
0:24
0
| | | | | | |
| --- | --- | --- | --- | --- | --- |
| Prd | Player | Team | Min | Infraction | Time |
| 1st | Cheyenne Harris | UNI | 2 | Holding | 19:45 |
| 2nd | Haley Shugart | UNI | 2 | Goaltender Interference | 15:15 |

| | | | | | |
| --- | --- | --- | --- | --- | --- |
| Prd | Player | Team | Min | Infraction | Time |
| 3rd | Ellie Moser | BMJ | 2 | Hooking | 6:55 |
New Records: Bemidji State 7-13-1, Union 2-16-2

Three Stars: 1. Clair DeGeorge (Bemidji State)
2. Jacqueline Kaasa (Bemidji State)
3. Abby Halluska (Bemidji State)