Beaver Men's Hockey Gameday – Game 35 – March 1, 2019 – at MSU Mankato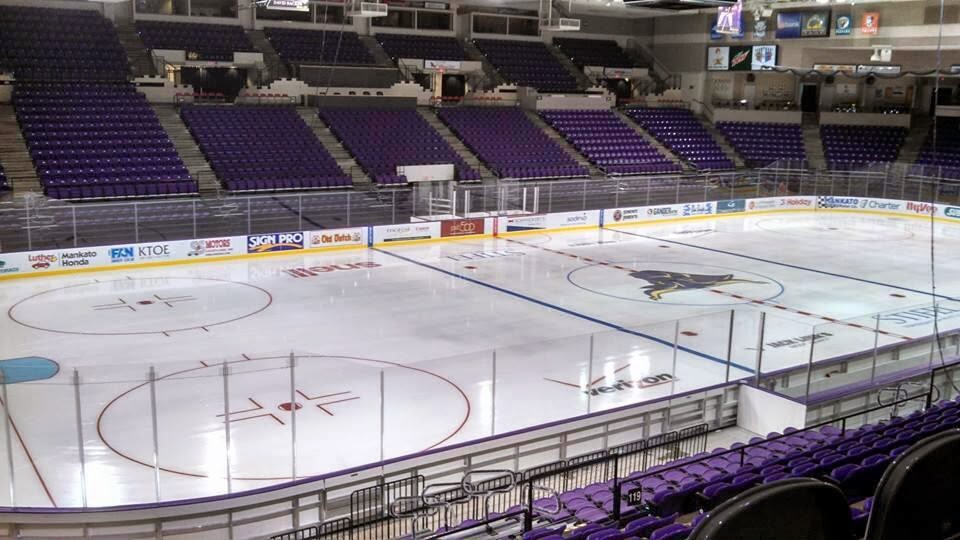 The Bemidji State University men's ice hockey team (15-13-6; 13-9-4-2 WCHA) wraps up the regular season this weekend at Minnesota State Mankato to face the Mavericks.
MSU wrapped up the #1 seed int he playoffs and the regular season title last weekend at Alaska. Bemidji State is still trying to clinch home ice in the first round of the WCHA PLayoffs.
Our pregame coverage begins at 6:30pm CST, with the faceoff set for 7:07pm tonight on Mix 103.7 and online at beaverradionetwork.com.
Pregame Open Pregame Open
Tom Serratore Pregame Coaches Pregame
Adam Brady Pregame Pregame
Bemidji State Lines
Jay Dickman – Brendan Harris – Nick Cardelli
Adam Brady – Owen Sillinger – Charlie Combs
Ethan Somoza – Ross Armour – Aaron Miller
Mike Soucier – Tyler Kirkup – Alex Ierullo
Extra Skater – Darby Gula
Tommy Muck – Dan Billett
Dillon Eichstadt – Justin Baudry
Tyler Vold – Brad Johnson
Zach Driscoll
Henry Johnson
Opponent Lines
Parker Tuomie – Marc Michaelis – Charlie Gerard
Reggie Lutz – Jake Jaremko – Max Coatta
Dallas Gerads – Jared Spooner – Walker Duehr
Nicholas Rivera – Josh French – Julian Napravnik
Connor Mackey – Jack McNeely
Riese Zmolek – Ian Scheid
Andy Carroll – Edwin Hookenson
Dryden McKay
Mathias Israelsson
Jacob Berger
Beaver Radio Network Ottertail Power Three Stars
1 – Nick Rivera
2 – Marc Michaelis
3 – Dryden McKay
Tom Serratore Postgame Tom Serratore Postgame
Listen To / Download Whole Game

Boxscore provided by http://collegehockeystats.net
College Hockey Box Score (Final)
Bemidji State at Minnesota State
Friday, March 1, 2019

| | | | | |
| --- | --- | --- | --- | --- |
| Referees: | Scott Roth | | Game Start: | 7:07 |
| | Ross Gibbs | | Game End: | 9:25 |
| Linesmen: | Matt Tyree | | Game Length: | 2:18 |
| | Kyle Domin | | Attendance: | 4357 |
| | | | | |
| --- | --- | --- | --- | --- |
| Scoring | 1st | 2nd | 3rd | Final |
| Bemidji State | 1 | 0 | 0 | 1 |
| Minnesota State | 2 | 2 | 0 | 4 |

| | | | | |
| --- | --- | --- | --- | --- |
| Shots on Goal | 1st | 2nd | 3rd | SOG |
| Bemidji State | 10 | 11 | 11 | 32 |
| Minnesota State | 15 | 6 | 7 | 28 |

| | | | | |
| --- | --- | --- | --- | --- |
| | PP | PP % | PIM | SHGF |
| Bemidji State | 0/3 | .000 | 5/21 | 0 |
| Minnesota State | 1/5 | .200 | 3/6 | 0 |
| | | | | | | | | | |
| --- | --- | --- | --- | --- | --- | --- | --- | --- | --- |
| # | Prd | Time | Team | Score | Type | Scored By | Assists | Offense On Ice | Defense On Ice |
| | 1st | 9:33 | BMJ | 1-0 | EV | Brendan Harris (4) | Nick Cardelli/6, Justin Baudry/21 | 21,26,6,20,29,G33 | 25,5,12,16,18,G29 |
| | 1st | 15:00 | MNS | 1-1 | EV | Nicholas Rivera (7) | Julian Napravnik/13, Dryden McKay/2 | 23,15,25,18,26,G29 | 11,12,19,22,18,G33 |
| | 1st | 19:02 | MNS | 2-1 | EV GW | Max Coatta (8) | Jake Jaremko/10, Chris Van Os-Shaw/4 | 12,25,5,18,19,G29 | 13,14,27,2,3,G33 |
| | 2nd | 16:08 | MNS | 3-1 | EV | Jared Spooner (7) | Nicholas Rivera/8, Dallas Gerads/9 | 11,23,22,4,18,G29 | 2,27,13,14,3,G33 |
| | 2nd | 18:53 | MNS | 4-1 | PP | Parker Tuomie (13) | Marc Michaelis/19, Charlie Gerard/15 | 6,20,9,11,18,G29 | 12,2,9,3,G33 |
##
Bemidji State
G
A
P
PIM
SOG
+/-
2
Dan Billett
0
0
0
0/0
1
-2
3
Tommy Muck
0
0
0
0/0
5
-2
6
Jay Dickman
0
0
0
1/2
2
+1
8
Darby Gula
0
0
0
0/0
0
E
9
Ethan Somoza
0
0
0
0/0
2
E
11
Charlie Combs
0
0
0
0/0
1
-1
12
Owen Sillinger
0
0
0
0/0
1
-1
13
Mike Soucier
0
0
0
2/15
0
-2
14
Alex Ierullo
0
0
0
0/0
0
-2
16
Aaron Miller
0
0
0
0/0
2
E
17
Ross Armour
0
0
0
2/4
2
E
18
Brad Johnson
0
0
0
0/0
0
-1
19
Adam Brady
0
0
0
0/0
0
-1
20
Dillon Eichstadt
0
0
0
0/0
4
+1
21
Brendan Harris
1
0
1
0/0
1
+1
22
Tyler Vold
0
0
0
0/0
3
-1
26
Nick Cardelli
0
1
1
0/0
1
+1
27
Tyler Kirkup
0
0
0
0/0
0
-2
29
Justin Baudry
0
1
1
0/0
7
+1
33
G Zach Driscoll
0
0
0
0/0
0
-2
35
G Henry Johnson
Did Not Play
Bemidji State Totals
1
2
3
5/21
32
-2

##
Minnesota State
G
A
P
PIM
SOG
+/-
2
Connor Mackey
0
0
0
0/0
6
E
3
Jack McNeely
0
0
0
0/0
0
E
4
Andy Carroll
0
0
0
0/0
1
+1
5
Jake Jaremko
0
1
1
1/2
2
E
6
Parker Tuomie
1
0
1
0/0
2
E
9
Charlie Gerard
0
1
1
0/0
3
E
11
Jared Spooner
1
0
1
0/0
3
+1
12
Max Coatta
1
0
1
0/0
2
E
15
Julian Napravnik
0
1
1
0/0
1
+1
16
Reggie Lutz
0
0
0
0/0
1
-1
17
Walker Duehr
0
0
0
0/0
0
E
18
Ian Scheid
0
0
0
0/0
0
+2
19
Chris Van Os-Shaw
0
1
1
0/0
0
+1
20
Marc Michaelis
0
1
1
1/2
2
E
22
Dallas Gerads
0
1
1
0/0
1
+1
23
Nicholas Rivera
1
1
2
0/0
1
+2
24
Edwin Hookenson
0
0
0
1/2
0
E
25
Riese Zmolek
0
0
0
0/0
2
+1
26
Josh French
0
0
0
0/0
1
+1
29
G Dryden McKay
0
1
1
0/0
0
+2
31
G Jacob Berger
Did Not Play
32
G Mathias Israelsson
Did Not Play
Minnesota State Totals
4
8
12
3/6
28
+2

##
Goaltending
MIN
GA
1
2
3
Saves
33
Zach Driscoll (L, 10-8-4)
59:47
4
13
4
7
24
Empty Net
0:13
0

| | | | | | | | |
| --- | --- | --- | --- | --- | --- | --- | --- |
| ## | Goaltending | MIN | GA | 1 | 2 | 3 | Saves |
| 29 | Dryden McKay (W, 19-6-2) | 60:00 | 1 | 9 | 11 | 11 | 31 |
| | | | | | |
| --- | --- | --- | --- | --- | --- |
| Prd | Player | Team | Min | Infraction | Time |
| 2nd | Jake Jaremko | MNS | 2 | Hooking | 4:56 |
| 2nd | Ross Armour | BMJ | 2 | Hooking | 7:15 |
| 2nd | Jay Dickman | BMJ | 2 | Slashing | 11:07 |
| 2nd | Marc Michaelis | MNS | 2 | Slashing | 13:30 |

| | | | | | |
| --- | --- | --- | --- | --- | --- |
| Prd | Player | Team | Min | Infraction | Time |
| 2nd | Edwin Hookenson | MNS | 2 | Interference | 13:41 |
| 2nd | Mike Soucier | BMJ | 5 | Checking from Behind | 16:08 |
| 2nd | Mike Soucier | BMJ | 10 | Game Misconduct | 16:08 |
| 3rd | Ross Armour | BMJ | 2 | Tripping | 13:10 |
New Records: Minnesota State 26-7-2, Bemidji State 15-14-6

Three Stars: 1. Nicholas Rivera (Minnesota State)
2. Max Coatta (Minnesota State)
3. Dryden McKay (Minnesota State)