Beaver Women's Hockey Gameday – Game 23 – January 10, 2020 – vs Wisconsin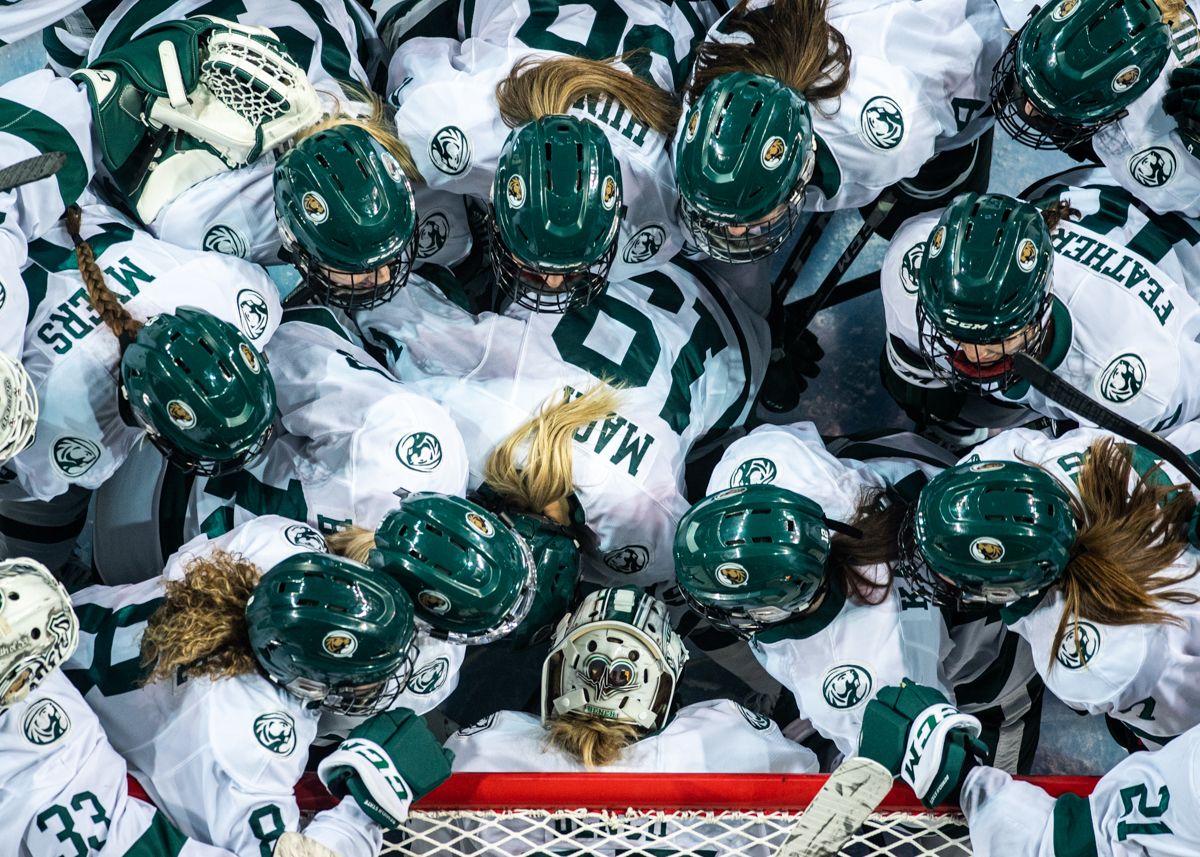 After having its program record nine-game winning streak snapped at the Minnesota Cup to No. 10 University of Minnesota Duluth, the Bemidji State University women's hockey team resumes Western Collegiate Hockey Association play by hosting No. 1 University of Wisconsin. The Beavers (12-9-1, 6-6-0-0 WCHA) return home for the first time since Dec. 6-7 to host the top-ranked Badgers (20-1-1, 10-1-1-0 WCHA) for a two-game, league series, Jan. 10-11. Puck drop for game one of the series is scheduled for 6:07 p.m., Friday followed by game two at 3:07 p.m., Saturday.
Tune into our pregame coverage beginning 30 minutes prior to the opening faceoff on 94.3 FM The Legends in Bemidji or online at www.beaverradionetwork.com.
Pregame Open Pregame Open
Jim Scanlan Pregame Coach Pregame
Haley Mack Pregame Player Pregame
Bemidji State Lines
Abby Halluska – Kiki Radke – Lydia Passolt
Haley Mack – Clair DeGeorge – Reece Hunt
Jacqueline Kaasa – Lindsey Featherstone – Paige Beebe
Mya Neugent – Graysen Myers – Ellie Moser
Extra Skater – Abby Ecker
Briana Jorde – Mak Langei
Tina Kampa – Heather Olson
Abby DeLaRosa – Kara Werth
Lauren Bench
Kerigan Dowhy
Lexi Baker
Opponent Lines
Daryl Watts – Abby Roque – Sophie Shirley
Alexis Mauermann – Brette Pettet – Britta Curl
Caitlin Schneider – Delaney Drake – Presley Norby
Dara Greig – Grace Shirley – Maddie Posick
Grace Bowlby – Mekenzie Steffen
Nicole LaMantia – Natalie Buchbinder
Maddie Rowe – Chayla Edwards
Kristen Campbell
Cami Kronish
Breanna Blesi
Beaver Radio Network Ottertail Power Three Stars
1 – Brette Petit
2 – Haley Mack
3 – Clair DeGeorge
Jim Scanlan Postgame Jim Scanlan Postgame
Listen To / Download Whole Game

Boxscore provided by http://collegehockeystats.net
College Hockey Box Score (Final)
Wisconsin at Bemidji State
Friday, January 10, 2020

| | | | | |
| --- | --- | --- | --- | --- |
| Referees: | Robert Ludwig | | Game Start: | 6:07 |
| | Craig Hedlund | | Game End: | 7:57 |
| Linesmen: | Sam Jerome | | Game Length: | 1:50 |
| | Glenn Hagberg | | Attendance: | 426 |
| | | | | |
| --- | --- | --- | --- | --- |
| Scoring | 1st | 2nd | 3rd | Final |
| Wisconsin | 1 | 2 | 0 | 3 |
| Bemidji State | 1 | 1 | 0 | 2 |

| | | | | |
| --- | --- | --- | --- | --- |
| Shots on Goal | 1st | 2nd | 3rd | SOG |
| Wisconsin | 8 | 8 | 7 | 23 |
| Bemidji State | 7 | 9 | 7 | 23 |

| | | | | |
| --- | --- | --- | --- | --- |
| | PP | PP % | PIM | SHGF |
| Wisconsin | 0/2 | .000 | 1/2 | 0 |
| Bemidji State | 0/1 | .000 | 2/4 | 0 |
| | | | | | | | | | |
| --- | --- | --- | --- | --- | --- | --- | --- | --- | --- |
| # | Prd | Time | Team | Score | Type | Scored By | Assists | Offense On Ice | Defense On Ice |
| | 1st | 1:16 | WIS | 1-0 | EV | Sophie Shirley (20) | Daryl Watts/33, Nicole LaMantia/12 | 9,19,21,18,2,G35 | 21,8,3,2,14,G35 |
| | 1st | 7:30 | BMJ | 1-1 | EV | Kara Werth (2) | Clair DeGeorge/9, Heather Olson/6 | 4,26,12,5,18,G35 | 14,12,21,17,10,G35 |
| | 2nd | 0:55 | WIS | 2-1 | EV | Natalie Buchbinder (1) | Sophie Shirley/23, Nicole LaMantia/13 | 2,9,21,19,18,G35 | 3,21,8,14,2,G35 |
| | 2nd | 8:02 | BMJ | 2-2 | EV | Haley Mack (13) | Reece Hunt/8, Clair DeGeorge/10 | 19,29,26,14,2,G35 | 14,10,22,6,21,G35 |
| | 2nd | 19:10 | WIS | 3-2 | EV GW | Brette Pettet (9) | Presley Norby/7 | 20,6,14,25,8,G35 | 14,12,26,4,29,G35 |
##
Wisconsin
G
A
P
PIM
SOG
+/-
2
Natalie Buchbinder
1
0
1
0/0
2
+2
4
Teagan Grant
0
0
0
0/0
0
E
6
Presley Norby
0
1
1
0/0
3
E
7
Dara Greig
0
0
0
0/0
0
E
8
Maddie Rowe
0
0
0
0/0
1
+1
9
Sophie Shirley
1
1
2
0/0
2
+2
10
Delaney Drake
0
0
0
0/0
0
-2
12
Grace Shirley
0
0
0
0/0
0
-1
13
Grace Bowlby
0
0
0
0/0
0
E
14
Alexis Mauermann
0
0
0
1/2
2
-1
15
Caitlin Schneider
0
0
0
0/0
2
E
16
Maddie Posick
0
0
0
0/0
1
E
17
Britta Curl
0
0
0
0/0
0
-1
18
Abby Roque
0
0
0
0/0
1
+2
19
Daryl Watts
0
1
1
0/0
4
+2
20
Brette Pettet
1
0
1
0/0
3
+1
21
Nicole LaMantia
0
2
2
0/0
2
E
22
Mekenzie Steffen
0
0
0
0/0
0
-1
25
Chayla Edwards
0
0
0
0/0
0
+1
30
G Cami Kronish
Did Not Play
32
G Breanna Blesi
Did Not Play
35
G Kristen Campbell
0
0
0
0/0
0
+1
Wisconsin Totals
3
5
8
1/2
23
+1

##
Bemidji State
G
A
P
PIM
SOG
+/-
2
Mak Langei
0
0
0
1/2
1
-1
3
Lydia Passolt
0
0
0
0/0
2
-2
4
Kara Werth
1
0
1
0/0
1
E
5
Abby DeLaRosa
0
0
0
0/0
0
+1
7
Abby Ecker
0
0
0
0/0
0
E
8
Kiki Radke
0
0
0
0/0
1
-2
9
Mya Neugent
0
0
0
0/0
0
E
10
Lindsey Featherstone
0
0
0
0/0
3
E
11
Tina Kampa
0
0
0
0/0
0
E
12
Jacqueline Kaasa
0
0
0
0/0
1
E
14
Briana Jorde
0
0
0
0/0
1
-2
16
Ellie Moser
0
0
0
0/0
0
E
18
Paige Beebe
0
0
0
0/0
4
+1
19
Haley Mack
1
0
1
0/0
3
+1
20
Heather Olson
0
1
1
1/2
1
E
21
Abby Halluska
0
0
0
0/0
5
-2
23
Graysen Myers
0
0
0
0/0
0
E
26
Clair DeGeorge
0
2
2
0/0
0
+1
29
Reece Hunt
0
1
1
0/0
0
E
30
G Lexi Baker
Did Not Play
33
G Kerigan Dowhy
Did Not Play
35
G Lauren Bench
0
0
0
0/0
0
-1
Bemidji State Totals
2
4
6
2/4
23
-1

| | | | | | | | |
| --- | --- | --- | --- | --- | --- | --- | --- |
| ## | Goaltending | MIN | GA | 1 | 2 | 3 | Saves |
| 35 | Kristen Campbell (W, 20-1-1) | 60:00 | 2 | 6 | 8 | 7 | 21 |

##
Goaltending
MIN
GA
1
2
3
Saves
35
Lauren Bench (L, 9-8-0)
59:19
3
7
6
7
20
Empty Net
0:41
0
| | | | | | |
| --- | --- | --- | --- | --- | --- |
| Prd | Player | Team | Min | Infraction | Time |
| 1st | Mak Langei | BMJ | 2 | Tripping | 15:08 |
| 2nd | Heather Olson | BMJ | 2 | Checking | 10:59 |

| | | | | | |
| --- | --- | --- | --- | --- | --- |
| Prd | Player | Team | Min | Infraction | Time |
| 2nd | Alexis Mauermann | WIS | 2 | Checking | 15:57 |
New Records: Wisconsin 21-1-1, Bemidji State 12-10-1

Three Stars: 1. Sophie Shirley (Wisconsin)
2. Brette Pettet (Wisconsin)
3. Clair DeGeorge (Bemidji State)