Beavers Fall to Eagles in the Mud In Crookston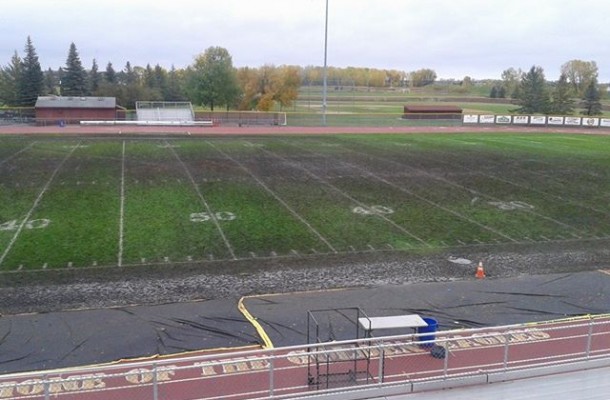 Despite outgaining University of Minnesota Crookston 317-146 in total yards, Bemidji State University football turnovers and special teams miscues led to a 16-14 loss at UMC in a raining and muddy Northern Sun Intercollegiate Conference game Saturday. A UMC safety with 1:25 remaining in regulation was the game-winning score.
The loss is the first to Minnesota Crookston (1-4; 1-4 NSIC, 1-0 NSIC North) since 1998, ending a 14-game winning streak against the Golden Eagles. The loss was just the second in the all-time history of the two teams meeting (BSU, 19-2).
On offense, the Beavers (2-3; 2-3 NSIC, 0-1 NSIC North) fumbled five times, losing three and failed to score on fourth and goal from the UMC1 and the UMC2, while on special teams had a punt travel just seven yards and a punt blocked.
On a punt return in the fourth quarter, the ball hit a BSU player to make a live ball and UMC recovered, then on the same drive allowed the Golden Eagles to convert a fourth and one on a fake punt, which set-up the poor field position for BSU when the safety occurred.
Senior running back Avery Walker (Milwaukee, Wis.) rushed for a career-high 265 yards and two touchdowns to record back-to-back 150-plus yard games. He became the first BSU back to go for 200 or more yards in a game since Dustin Kroeplin rushed for 200 yards even versus Northern State Oct. 30, 2010.
Walker scored on a two-yard run in the second quarter to cap an eight-play, 40-yard drive. His second score was a one-yard rush in the third quarter, to warp up an eight-play, 62-yard drive.
Sophomore linebacker Connor Quinn (Geneva, Ill.) and junior defensive end Dan Kiebler (Franklin Park, Ill.) each totaled a team-high eight tackles and 1.5 tackles for loss. Kiebler posted 1.5 sacks to push back the Golden Eagles 13 yards.
Momentum Shift
One of BSU's three fumbles was on a punt return late in the fourth quarter where the ball bounced and hit a BSU player, causing the ball to be live and was recovered by the Golden Eagles. The turnover gave Minnesota Crookston good field position and after a BSU defensive stop, UMC was able to punt and pin the ball at the Bemidji State three-yard-line. The poor field position led to the game-winning safety, as Walker was tackled in the end zone.
Player of the Game
Avery Walker (Sr., RB, Milwaukee, Wis.) produced his second straight career performance as a Beaver, rushing 46 times for 265 yards and two scores. His long rush went for 40 yards, while he averaged 5.8 yards per carry.
Stat of the Game
104 – Combined rushing attempts by both teams. The wet and sloppy conditions forced the teams to rush the ball, as the teams totaled just 13 pass attempts. BSU controlled the ground game with 282 yards rushing to UMC's 83.
Notable – Hubcap Game
The Beavers and Golden Eagles have played for a traveling trophy, a Hubcap, to signify its Highway 2 rivalry since 2004. BSU had won all nine Hubcap meetings entering Saturday's contest.
Quickly…
• After only forcing on fumble and giving up three, the Beavers are now -3 in the turnover margin category this season.
• The Beavers were eight of 15 (53.3%) on third down conversions, while holding UMC to three for 13 (23.1%).
• Despite only throwing the ball three times, senior quarterback Alex Hass was an efficient 3-for-4 for 35 yards.
• The contest began the NSIC North schedule for both teams.
Next Up
The Beavers host University of Mary (3-2; 3-2 NSIC, 1-0 NSIC North) Oct. 12 at Chet Anderson Stadium. The NSIC contest is set to begin at 1 p.m. and serves as the annual Lion's Vision Awareness Game.