VIDEO – Brittni Mowat – BSU WHockey – Beaver Fever Friday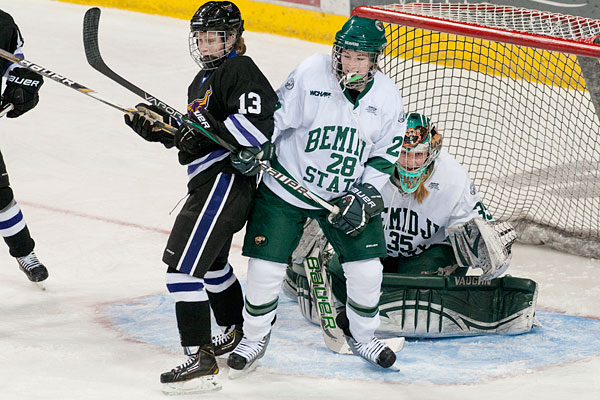 The Western Collegiate Hockey Conference (WCHA) announced that Bemidji State University women's hockey goaltender Brittni Mowat (Fr., Glenboro, Manitoba) has been selected WCHA Rookie of the Week for her efforts in the Beavers' nonconference series against Lindenwood University.
Mowat made both starts for BSU on the Sept. 27-28 weekend, stopping 45 of 48 shots on goal for a .938 save percentage, and posted four shutout periods. She notched her first career win Friday with an 18-save, 3-2 victory, and then surrendered just one goal while making 27 stops in a 1-1 tie Saturday.
The WCHA award marks the first time the league has selected a member of the Beavers for a weekly honor in 2013-14. The last BSU player to earn a conference player of the week award was Kaitlyn Tougas (F, So., Thunder Bay Ontario), who took home the WCHA Rookie of the Week award for the week of Nov. 14, 2012.
In addition to Mowat, the WCHA named Minnesota State University, Mankato forward Katie Johnson its Offensive Player of the Week, while MSU goaltender Danielle Butters earned the WCHA Defensive Player of the Week award. The Mavericks split a pair of games with Mercyhurst University last weekend.
After last weekend's 3-2 win and 1-1 tie against the Lions, Bemidji State (1-0-1) now continues nonconference play with Robert Morris University Oct. 11-12. The series will be the first games home this season. BSU will open WCHA play the following weekend when defending national champion, University of Minnesota comes to Sanford Center.