Beaver Fever Friday – Track – Venice Stewart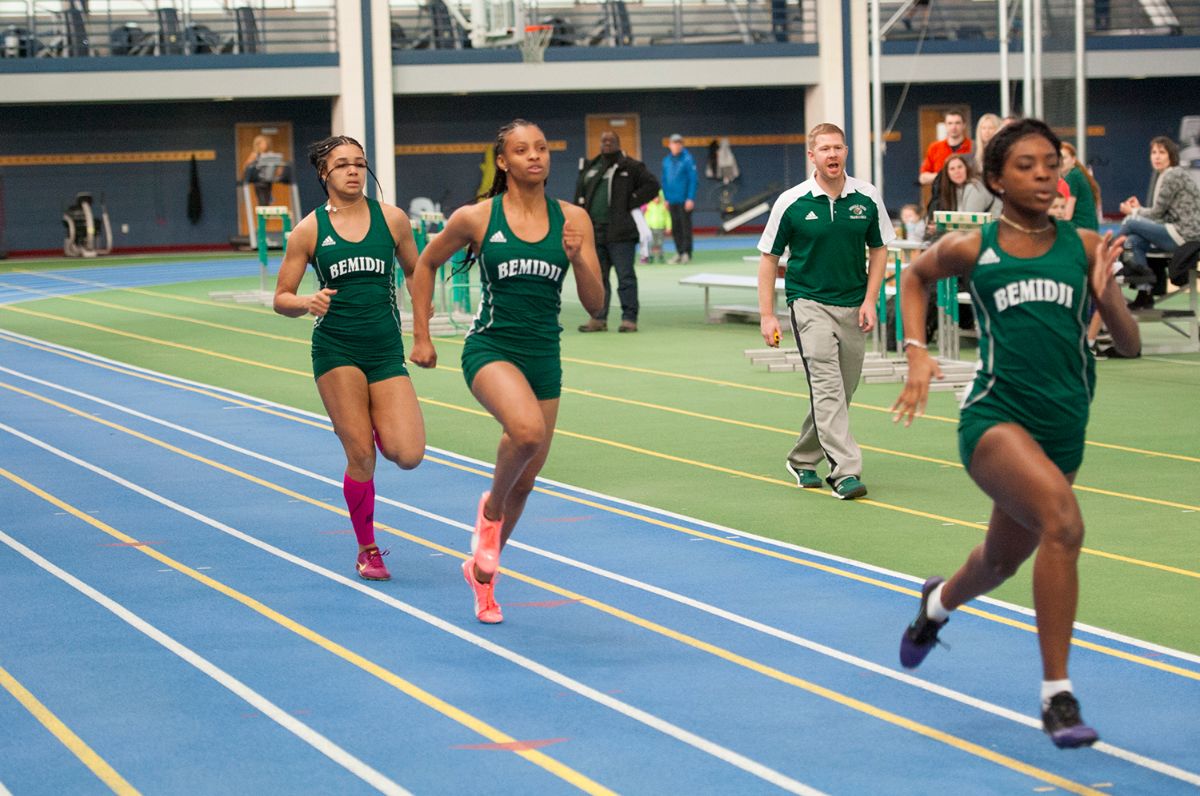 The Bemidji State University track and field program will send 16 student-athletes to the 2018 Northern Sun Intercollegiate Conference Indoor Championships, schedule for Friday, Feb. 23 and Saturday, Feb. 24 in Mankato, Minn. The Beavers head into the event ranked fourth with four points after the NSIC Multi Championships.
The meet's events begin at 12 p.m. with the weight throw and high jump, while events will run through 5 p.m. on the opening night. The second day of events will begin at 11 a.m. with the shot put.
Eight athletes from each of the running events (excluding the distance medley relay) will advance to the finals, held on Saturday. Each running event will have one heat finals, except the 200m dash that will have two heat finals.
At the conclusion of each event, NSIC All-Conference performers shall consist of the top three place winners in each event and the members of the top two relay teams.
Friday, February 23
Weight Throw (12pm) – Gena Baklund, Samara Tobeck
High Jump (12pm) – Christa Benson, Libby Christenson, Kelsey Hurley, Cassidy Ziegler
60m Hurdles (1:30pm) – Christa Benson
400m Dash (2pm) – Kelsey Hurley
Long Jump (2:30pm) –Cheri'A Adams
60m Dash (3pm) – Cheri'A Adams, Venice Stewart
800m Run (3:20pm) – Aneesa Tucker, Brittny Hillstrom
200m Dash (4pm) – Jada Barker, Venice Stewart
4000m Distance Medley (5pm) – (Jada Barker, Brittny Hillstrom, Ashley Kinnard, Kristen Petron/Christa Benson, Libby Christenson, Aneesa Tucker)
Saturday, February 24
Shot Put (11am) – Gena Baklund, Savanah Olson
Triple Jump (12:30pm) – Cheri'A Adams, Analise Fabre
60m Hurdles Finals (1:30pm)
400m Dash Finals (1:45pm)
60m Dash Finals (2:15pm)
800m Run Finals (2:30pm)
200m Dash Finals (3:05pm)
4x400m Relay (4:45pm) – (Christa Benson, Aneesa Tucker, Kelsey Hurley, Venice Stewart/Jada Barker, Libby Christenson, Brittny Hillstrom, Ashley Kinnard)
LAST TIME OUT
Bemidji State entered the final weekend before the conference championships at the University of North Dakota Indoor Tuneup, held in Grand Forks, N.D. Freshman Aneesa Tucker set the BSU program record with a finish of 2:18.11 in the 800m, while ending second in the event, and helped the 4x400m relay to a finish of 3:59.18, while both program-best times were set on 300m oversized tracks. Joining Tucker on the record-setting 4x400m record-setting team was junior Christa Benson, junior Kelsey Hurley and freshman Venice Stewart.
Stewart gave BSU a first-place finish in the 60m dash, completing the run in 7.84, which comes close to her school record time in the event. Sophomore Jada Barker finished second in the 60m dash with a time of 8.02.
Freshman Cheri'A Adams took second in both the long jump and triple jump for BSU. Benson and Hurley each tied for third in the high jump for BSU in the field events. Twenty-two total Beavers finished among the top 10 of their respective events at the meet.