Day #7 To Bowling Green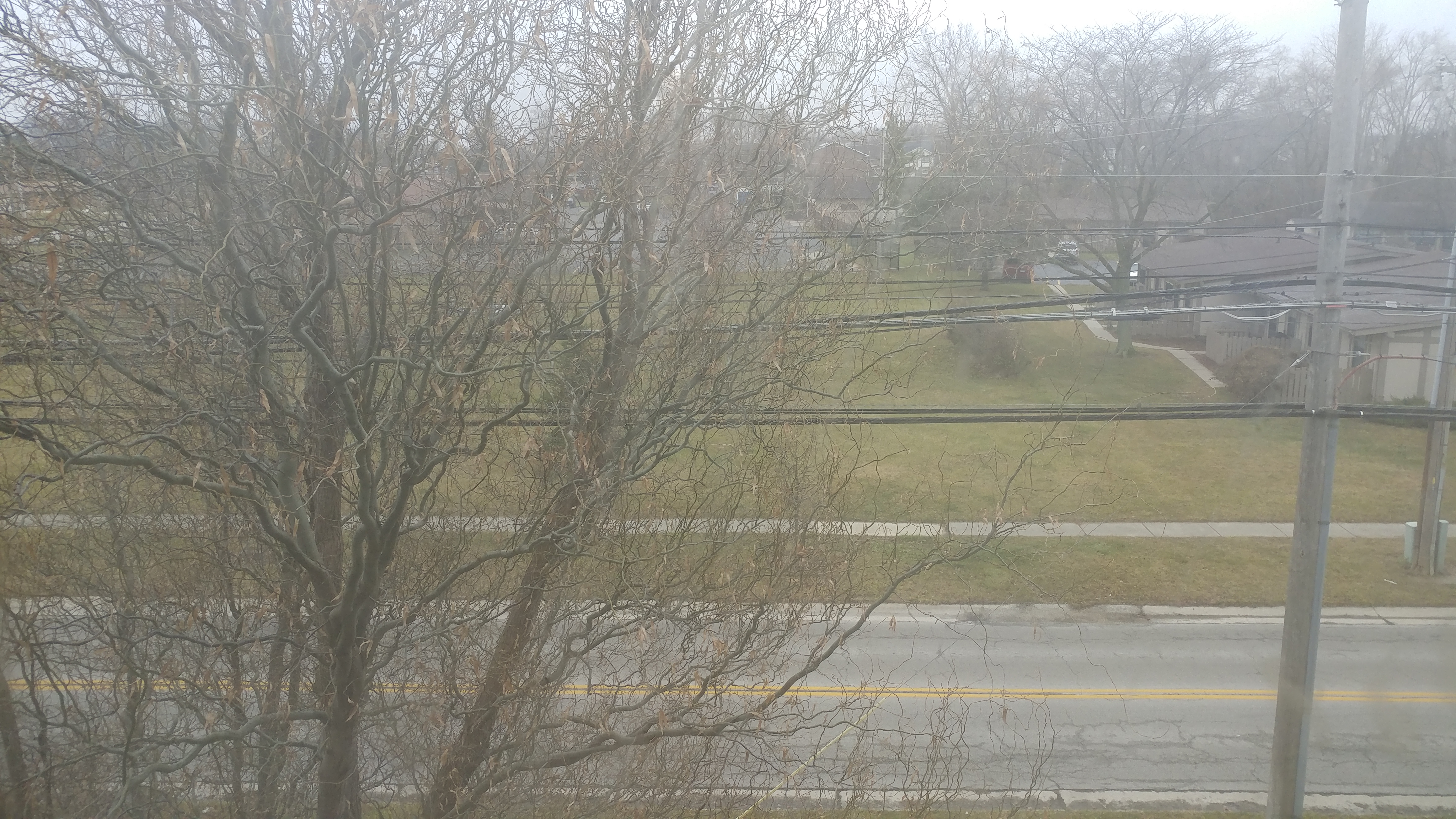 There is light at the end of the tunnel! Two games…three days…and we get to come home!
We have left the mountains of Colorado for the…I'm not sure what…of Bowling Green! I showed you a video from my hotel room in Colorado on the first day's travelog. Above is the view from my hotel room in Bowling Green.
Today has finally felt like a "regular" road trip. On a normal trip, we get to the destination on Thursday for a Friday – Saturday series. Since this is a Thursday – Friday series, today is a normal Thursday.
Typically when we get to town, we go to the rink for practice. The first practice at a rink is important. Players get used to the glass. They get used to how lively the boards are. They get used to how much room there is in the neutral zone, behind the net, and in the corners.
The rink here at Bowling Green…and the rink at Ferris State…are the two toughest to get used to in the WCHA. That's not a knock on either rink. It's just how these two rinks play. At Ferris the corners are rounded, and I'm not all that certain it's anywhere close to 200×85 feet.
The rink here at BG isn't all that odd in dimensions or anything like that, but the game just seems to be played with a super ball. Everything happens fast here. It can be a tough place to play the first time you're here. Then again, it doesn't get much easier the second, third or fourth time you play here!
Our flight from Denver to Detroit was delayed at the gate in Colorado for over an hour. They said they were having a hard time getting all the bags on. They also said that Detroit was getting freezing rain and that it would be done by the time we got to Michigan…so maybe those two elements both affected our departure time. With the delay, we didn't land in Detroit until almost midnight. We didn't get checked into our hotel in Bowling Green until 2am. And people say being on the road is so much fun!
With the late arrival, there was no wake up call. The team left for practice at noon. Practice ran from 1pm to 2pm. Before practice, I got an interview recorded with Adam Brady. Then I went back to the hotel to get ready for the weekend.
I started coming down with a cold yesterday. Since I've been sneezing and coughing all afternoon, I stayed at the hotel. The team went for dinner about a half an hour ago. I hope I still have a voice tomorrow!
Until then…
Brian