Video – Beaver Fever Friday – Joey Hanowski – Baseball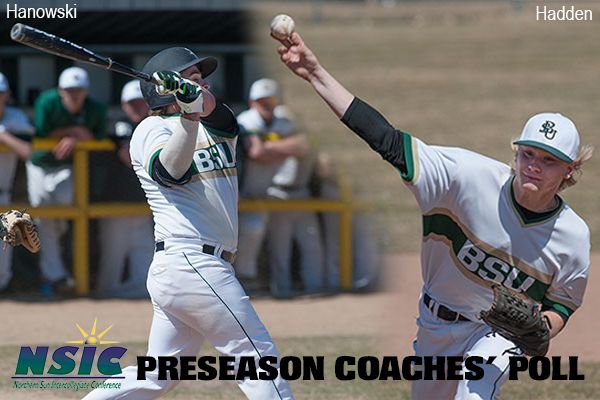 The Bemidji State University baseball team was selected 10th in the Northern Sun Intercollegiate Conference (NSIC) Preseason Baseball Coaches' Poll released Wednesday. The Beavers totaled 77 points in the poll while St. Cloud State University led all point-getters with 190 and 10 first-place votes.
BSU sits behind Southwest Minnesota State University with 79 points and ahead of University of Sioux Falls with 71. Pitcher/outfielder Terry Hadden and infielder Joey Hanowski were named Bemidji State's Players to Watch for the 2016 season.
Hadden, a junior from Elk River, Minn., finished last season as the Beavers' top pitcher with a team-low 6.82 ERA and a team-high four wins in 11 starts in 2015. He threw four complete games and earned one save in 60.2 innings pitched. Hadden held opposing hitters to a .321 batting average. At the plate, Hadden hit .262 in 42 at-bats and 14 games played.
Hanowski, a senior native of Little Falls, Minn., was one of two Beavers in 2015 to start all 47 games. He compiled a .351 batting average while leading the team in total hits with 61. Hanowski recorded 12 doubles, two triples and two home runs while driving in 29 runs. His 17 walks ranked second on the team while he logged a .908 fielding percentage.
Bemidji State begins the 2016 campaign Feb. 12-14 while traveling to Missouri Southern State University in Joplin, Mo. The Beavers will first play a single game at 1 p.m. on the 12th before beginning a doubleheader at 12 p.m. and 2 p.m. Feb. 13. The series finale will be a single game at 2 p.m. Feb. 14.
BSU opens the NSIC season March 25-26 at Concordia University-St. Paul with back-to-back doubleheaders. The Beavers and Golden Bears will first play at 1:30 p.m. and 3:30 p.m. Friday before finishing the series at 12 p.m. and 2 p.m. Saturday. The top eight teams in the final NSIC Standings will qualify for the double elimination conference tournament May 11-15 in St. Cloud, Minn.